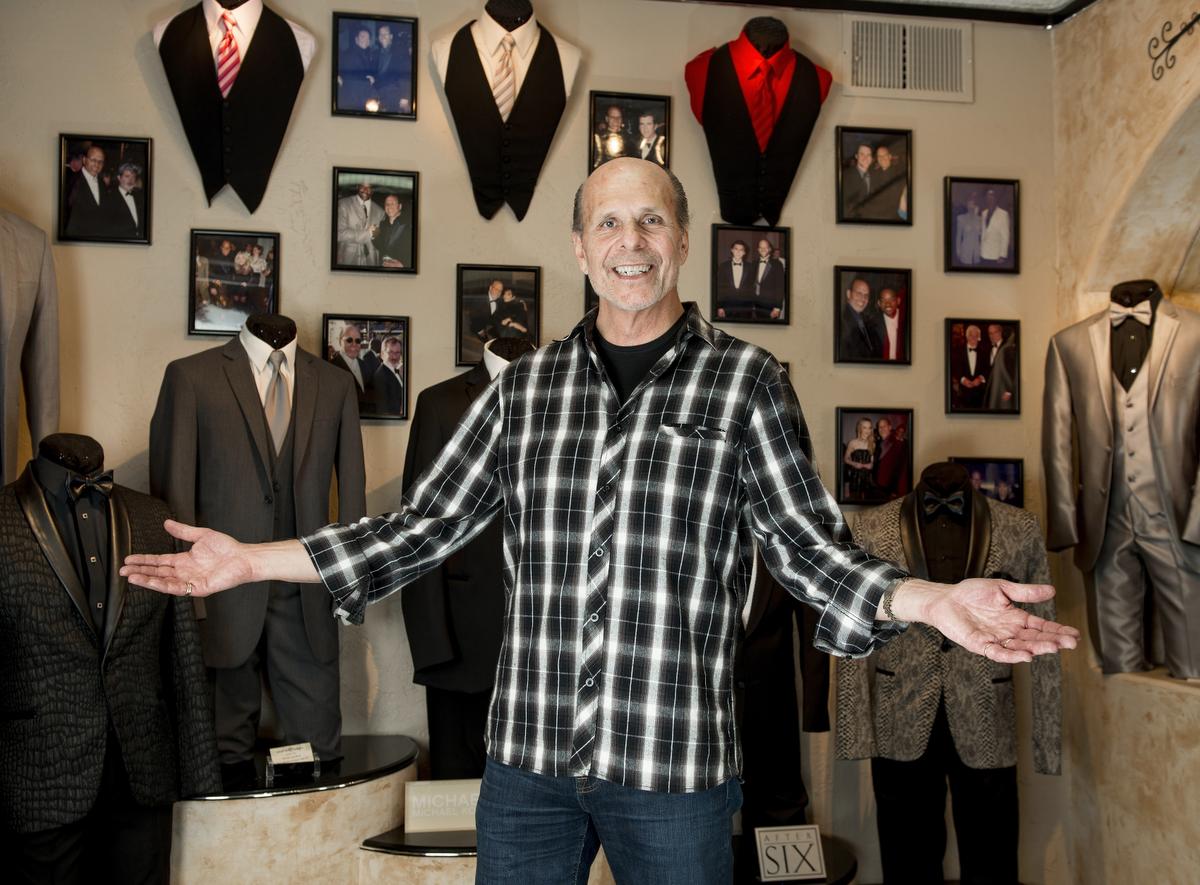 Chuck Jordon of Aaron Charles Formal Wear and Clint Sunderland opened their Buena Park store in March of 1972. Clint took over sole ownership in 1975 and changed the name to Clint's Formal Wear. We have established ourselves over the past 40 years as one of the "premier" fashion, wedding, prom and special occasion rental stores in California. We not only have a huge base of loyal customers. Many return with their children and grandchildren saying, "We got our (prom and or wedding) tuxedo's here way back in the '70's."
For the past 32 years we have also served the entertainment industry and Hollywood community through several venues, such as The Academy Awards, Emmy's, Golden Globes, American Music Awards, Academy of Country Music Awards, SAG Awards, many others and movies as well. Several have written letters expressing their thanks (See "Testimonials").
We are committed to bringing our customers the finest quality formal wear and personalized service that is unmatched by our industry. We look forward to exceeding your expectations.
You can browse our showroom anytime. Come in to check out the different styles, designers and accessories.
Make sure to come in about a month ahead of the event and we will create your wedding file. We'll put down the groom's name, best man, groomsmen and ushers, ring bearer (if any) and the fathers or grandfathers. Next, we'll take down what you want everyone to wear (styles of coats, etc.). We'll give you our business cards, and from this point you're pretty much done .
You'll then tell the guys where the formal wear is booked and they'll come in and get fitted at their leisure. We'll get them fitted in the exact coat they will be wearing on the day of the wedding to ensure a perfect fit. We do not require a down payment. Everything can be paid for when it's picked up, which will be 2 days prior to the event.
So to set up, the formal wear arrangements and getting everyone's measurements costs nothing. We'll see you 2 days before your event, make sure all is perfect, you'll pay us at this point and then it's honeymoon time! Weddings can be stressful, we take pride in making sure that coming into our shop actually has the opposite effect
The number of years of experience of our staff is what makes us unique in the industry. John Barone and Brian Page have been with Clint's for 30 and 20 years, respectively. No matter what salesman you get at Clint's Tux Shoppe you'll experience THE DIFFERENCE. Our knowledge and craft is the difference when it comes to customer service and the way you look.
Sincerely,
Clint Sunderland
Monday-Friday: 11am - 6pm
Saturday: 10am - 4pm
Sunday 12pm - 4pm
8405 La Palma Ave
Buena Park, CA 90620
Call Today:
714-523-8472