Some of our most frequently asked questions
"Check us out and see for yourself what NON CORPORATE service and attention to detail looks and feels like. You'll be impressed with the difference, we guarantee it!" – Clint
How do we go about setting up our wedding or event to use a tux shop.
You can browse our showroom anytime. Come in to check out the different styles, designers and accessories.
Make sure to come in about a month or so ahead of the event and we will make out a wedding party for you. We'll put down the groom's name, best man, groomsmen and ushers, ring bearer (if any) and the fathers or grandfathers. Next we'll take down what you want everyone to wear (styles of coats, etc.). We'll give you our business cards, and from this point you're pretty much done .
You'll then tell the guys where the formal wear is booked and they'll come in and get fitted at their leisure. We'll get them fitted in the exact coat they will be wearing on the day of the wedding to ensure a perfect fit. We do not require a down payment. Everything can be paid for when it's picked up, which will be 2 days prior to the event.
So to set up, the formal wear arrangements and getting everyone's measurements costs nothing. We'll see you 2 days before your even, make sure ALL is PERFECT, you'll pay us at this point and then it's HAPPY HONEYMOON! (It's really pretty simple.)
What about friends and family that are out of the area or the state?
They can go to any tux shop or men's clothing store where they live and ask for a "Courtesy Fitting". It's pretty universal, we do it all the time for out of the area customers. They will write down your measurements and you can call us with them. Please be sure to include height and weight (very important).
When do we pick up our tuxedos?
All tuxedos and suits will be ready 1-2 days before the event. We make exceptions to that if you're boarding a plane for a destination.
When do we pay for our tuxes?
You can pay anytime you want, but payment is not required until pick-up 2 days prior to the event.
When do all the guys need to be in?
In a perfect world I would like all t he guys to be in and fitted by at least a week before the wedding, but we can work around your schedule.
When does everybody's measurements need to be in by?
We'd like to have everyone in and fitted by at least a week before the wedding (if your friends are like our friends, tell them 2 weeks before the wedding.)
How long can we have our tuxedos and suits?
Typically, 3-4 days. (Exceptions are made for destination weddings).
What's the difference between different style fits?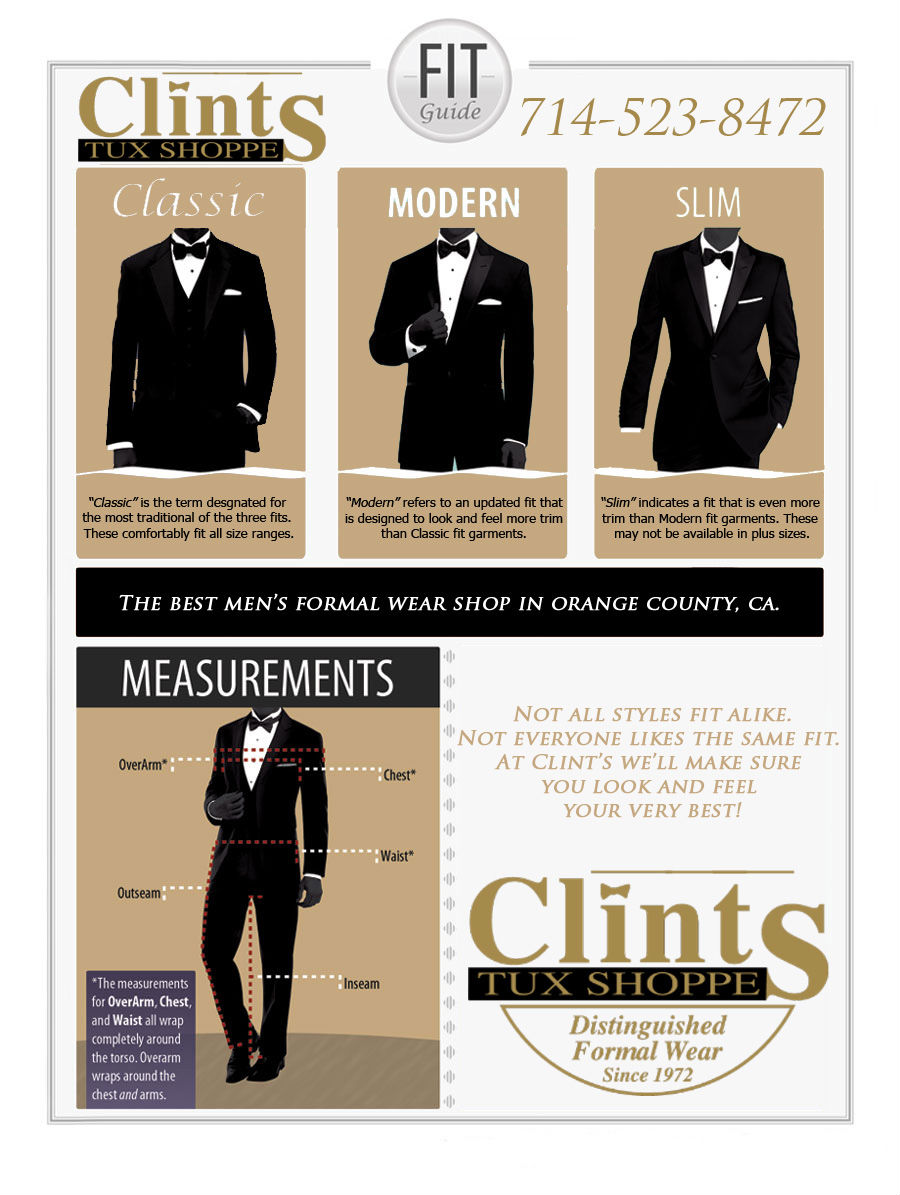 While evaluating the tuxedo shop to trust dressing you the best for your event consider the following Do's and Don'ts.
Do's
Do make sure you have confidence in the sales person. The sales person should be well versed in how different designers fit their suits and tuxedos, and this person must have an eye for what would look best for you.
Do try to choose a tuxedo shop for your wedding or event where all their merchandise is in stock and on the premise. It's very important if you want to try different coats and pants on before you rent it.
Do try to bring in a swatch or sample of the dress colors. A picture would work o.k., but subtle tones of colors tend to get lost in translation.
As the wedding draws nearer, if you want to call and find out who has or has not been fitted yet, just give us a call and we'll tell you who you still need to kick in the tail.
Don'ts
Don't let the price be the sole reason you choose the store. Many people make that mistake, and find out they got what they paid for. Don't forget your wedding album is forever. (Who cares if you save $12.50 if you will cringe every time you see the tuxedo.)
Don't feel uncomfortable in what you are wearing.
Don't go to a store with only a catalog, table, two chairs, and no stock (unless you are confident in the sales person).
Don't book your wedding or event at the first store you go to. Shop around and you'll find out there's a big difference in quality and customer service, so don't cheat yourself.
Monday-Friday: 11am - 6pm
Saturday: 10am - 4pm
Sunday 12pm - 4pm
8405 La Palma Ave
Buena Park, CA 90620
Call Today:
714-523-8472